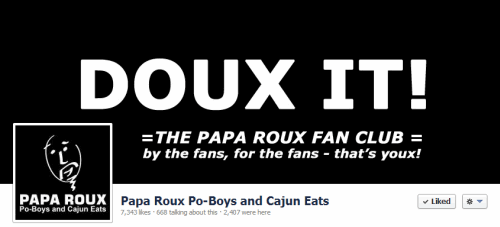 Whew! It's been a whirlwind of a week for Papa, Jhaquiel and the rest of the Roux Croux. This story definite tripped the viral meter and has been heard all over the nation as well as internationally from places like Adelaide, Australia, the Ukraine, South Korea, Russia, Canada, the Philipines and plenty of other places.
Here's an update straight from the Papa himself on where we hope things will continue moving forward in this story:
Hi there.
It's Papa.

I'm currently sitting in a green room in Chicago, all made-up and primped, feeling very helpless and a little silly as The Roux and The Roux Croux gets pummeled 300 miles away.

I've got another TL;DR for you (Google it if you don't know the term). 🙂

I'm thrilled that The Story has reached so many people. It's become a Global Meme. But if you get the impression that somehow I'm a great humanitarian or that Jhaqueil is the poster boy for morals and ethics, you're not only mistaken, but you're also missing the real point.

This story is far beyond my control. I think we all know Who is in control here. The more than 50,000 cumulative likes, comments, shares, interviews, blogs, telephone calls, emails, letters, donations, offers, and even political cartoons show that Something Is Definitely Up. It's heavy on my heart to make sure the right things happen next.

We're going to get with an attorney soon and create a non-profit fund to Do Good While Treating People Wellâ"¢. Obviously it's only the tip of the iceberg, but something has to be done to keep the rickdiculous amount of goodwill in perspective and accounted for. Keep it coming, of course, but let's get the focus where it should be, and that focus is FAR beyond the tiny facts of this story.

We received an email from a business owner in Bejing who was so moved by the story that he set out to find a Bejing youth who needs a job. He is now CREATING a position in his company for the sole purpose of hiring that youth.

Pause. Process that for a moment. I told a story (and you shared the story), a youth in Bejing is now gainfully employed as a direct result. NOT BECAUSE I HIRED JHAQUEIL. Because the community took a story and ran with it. Again… tip of the iceberg; let's keep the momentum going and do FAR, far more.

While I've got your attention, I need to point out that as weird and fun as this week is for me and for Jhaqueil, it's still a hardship for us and for many others. A first-world hardship, to be sure, but even so. I didn't ask for this. Jhaqueil didn't ask for the publicity, to be away from his family and alienated from The Roux Croux before he even put in hours. Nor did his family, my family, Mama Roux, my wonderful Roux Croux team, or the adoring fans who maintain this very page ask for the extra workload and stress (that's right, I haven't lifted a FINGER on it in all this time). I've instilled an immediate substantial raise to all Roux Croux members just to reward them for their kick-buttness (is that a word? It is now!). I didn't ask for it to go this way, and it's hard and yes even costly. But Someone wanted it to go this way, and I am but a vessel. A conduit, if you will.

YOU MUST UNDERSTAND THAT Without the above-mentioned people, there is no story. There is no Papa Roux. Without everyone behind the scenes getting dumped on all day every day, there is no Good being done through us. Yes. THROUGH us. Not BY us.

In many unseen ways, this one bizarre and random event is taking its toll on them, and I can tell from here it's difficult to stay afloat. Persons or organizations who can offer charitable help with organization, marketing, legal… we need you. If yiou can help Mama Roux maintain the family and keep dinner happening after 15 hours days for us both… we need you. Some have already done so. More is needed. It sounds crazy and whiny even as I type it, but it's very true. Please contact us privately at paparoux@gmail.com if you wish to Do Good While Treating People Wellâ"¢.

Or yes, even the those who can help with rickdiculously crazy request of… "is there someone out there who can help us quickly grow into a newer, larger building on the east side?" And I do mean QUICKLY. We didn't have enough room for enough employees and seats even before the cray hit, and we are on the verge of going under with this new surge. It's a welcome and incredible and beneficial problem, but it's STILL A PROBLEM.

Please remember to keep our backup singers in your thoughts and deeds. They're actually the magic in this song. Papa is just a player piano, and we've all always known it. 🙂

PLAY ON! Share THIS post as far and wide as you dare. And when you do, YOU become a backup singer in a beautiful song.

Papa
There you have it! How are you going to move forward with this story on your own? What have you already done. We'd love to hear your comments. Be sure and "Like" the Papa Roux Po-Boys and Cajun Food Fan Page and share your story there as well.
Still reading?! Well good for you! Just saw this message from Papa…
This is not a drill. If you need work, listen up.

It's tiring work. It's fast-paced. We have no immediate openings in a cushy role (hell, we have NO cushy roles, open or otherwise!)

Do you want to bust hump alongside the best crew in town? Can you follow simple instructions, move quickly and deftly, and most importantly, do you enjoy hard work?

We'll take you immediatey. You work the minute you arrive. These interviews will be on-the-job assessments. If you can clean a table and wash a dish, you're in. If you can do more, you are in for more. Skill level determines pay. All positions offer the possibility (but not guarantee) of permanent hire. NO TELEPHONE CALLS. NO EMAILS. NO FACEBOOK REPLIES. Just show up. We have work and you get paid.

8950 E 10th Street, 46219. Hours of operation are Mon-Sat, 10:30a-8:00p. Work may be needed up to two hours before and two hours after, depending on the day. In the event that many respond, your information will at least be kept on file for a future need.
Ground floor opportunity! Show what you're made of and become a part of this amazing team!