Tonight I had the opportunity to visit the test run opening for the new California Pizza Kitchen in Circle Centre Mall  opening to the public on Tuesday, August 9th. If you've never been to a California Pizza Kitchen, then contrary to what you may think by their name, they offer much more than just pizza. The chain was started by Rick Rosenfield and Larry Flax in 1985, and to date has more than 260 locations in 32 states and almost a dozen foreign countries.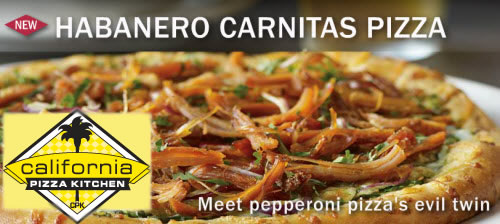 Since this was the test run for the grand opening, all hands were on deck to make sure our experience dining this evening was everything we expected. We were greeted very enthusiastically as we entered and were promptly seated and welcome to our table by our server for the evening, Wendel.
Wendel is originally from Indiana, but just recently moved back from Los Angeles and had worked for a California Pizza Kitchen out there, so he was well-versed and experienced with the menu and encouraged us to start off with his personal recommendation of the Spinach Artichoke Dip. Soon, all of our drinks from their fairly extensive drinks menu, including a wide variety of beer, cocktails, wine and non-alcoholic beverages, were delivered along with our appetizer. The cheese had a nice crisp bite to it that mixed well with the spinach and artichoke. Crisp and light tortilla chips were perfect for dipping, but I also dipped a little bit of the fresh, sliced bread into it as well and that was good too.
Even though they offer more than pizza; a fantastic selection of salads, various pasta dishes and sandwiches, as soon as I saw "Habanero Carnitas" pizza, I HAD to try it. Listen to this list of toppings and ingredients:
Slow-roasted pulled pork, red onions, cilantro pesto, Mozzarella and Queso Quesadilla cheese with SPICY habanero salsa, and I chose to also substitute the Honey-wheat whole grain crust over the traditional crust.
This pizza was fantastic! The folks monitoring the CPK Twitter account seemed to agree with me as well. When the servers brought my pizza to the table, they were sure to make me aware that the habanero was very spicy. Their warnings delivered accurately! It wasn't the hottest thing I've had in a restaurant, but it was up there! The heat level was perfectly mixed with a slightly sweet flavor that perfectly complimented the roasted pork and cheese of the pizza. I spooned a little bit onto each bit and even asked for a second cup of the salsa to finish my last two pieces.
Luckily, I was also able to trade a piece of my pizza to also try what my friend George ordered, the Wild Mushroom pizza. He got his pizza with a gluten free crust, which tasted great as well. I also found out from Rachel, the front of house manager, they also have a vegan, thin-crust option if desired as well. And with 28 more pizza options to choose from, it's going to take a few more trips to experience them all.
As I said before though, don't think all they have are pizzas. The other entree ordered by out table was their Jambalaya dish with blackened chicken, shrimp, crawfish, Andouille sausage and Tasso ham all playing together on a bed of linguini in a spicy Jambalaya sauce. Our friend said it was perhaps the best Jambalaya he's had.
Now no dinner is quite complete with a little bit of a sweet treat to end the meal right? Again, taking the suggestion from Wendel we had to give the Butter Cake, a "CPK Favorite". We couldn't stop there though, we also had to give the Tiramisu a try as well. Both were a delicious end to the meal. The Butter Cake was super rich, and looked like a small souffle or cheesecake as it was delivered to the table. The top was just slightly toasted looking and was super rich, moist and buttery inside. The Tiramisu was topped with a super-creamy white custard, and the lady finger cookies were soaked in a delicious espresso and rum sauce. My personal opinion though is that the Tiramisu edged out the Butter Cake, but I'm a coffee lover, so that probably tip the scale for me.
Although we didn't have our kids with us on this visit, the CPK has a few different options and combinations available, including a couple of different gluten free options. We believe that my daughter has a gluten intolerance, so this has really hit our radar lightly as we think about dining options as a family. We'll be adding California Pizza Kitchen as another gluten free friendly option to our list.
Throughout the evening, we had the opportunity to speak with a number of servers and managers for the location. As I said, Wendel took tremendous care of us and Kim came up from Birmingham to help make sure all the servers were trained as needed. We also met Aubrey, who's the front of house manager and moved here from Columbus, OH to help open and run the Indianapolis location. Last up was Rachel, the General Manager and she moved up here from Nashville, TN. Turns out we were just about neighbors when I lived in Nashville before moving to Indy to get married, so like a good neighbor, let's make all of them feel welcome to their new Indianapolis home, extend them some Hoosier Hospitality and show them all the positive things Indy has to offer.
If you'd like to give California Pizza Kitchen a try, Doug Karr of DK New Media will be hosting a Meetup on Thursday, August 25th at 5:30pm. Be sure to RSVP and sign-up for the event if you'd like to check it out for yourself.
Again, I'd like to thank George Jensen for inviting me to join him to give this place a try, and if you don't believe me and want to take my word for it, you can ask some other local celebs like Joe "The Buckeye Bulldozer" Staysniak, @Beefain or @Melmatto what they thought, as I saw them enjoying their meals tonight as well.