There's a bit of a history that was pulled into our family when I got married. You see anytime there's a birthday or other special event in my family or my wife's family, we go get a cake from Classic Cakes in Carmel. They've done wedding cakes, my groom's cake, we had a cake on every table as a centerpiece at our wedding reception, birthday cakes and sometimes just a cake because they taste so fantastic.
Recently Classic Cakes cakes were featured with 25 Amazing Custom Wedding Cakes, along side other national cake talents you may have heard of like Duff, from Charm City Cakes that you've seen on Ace of Cakes on The Food Network.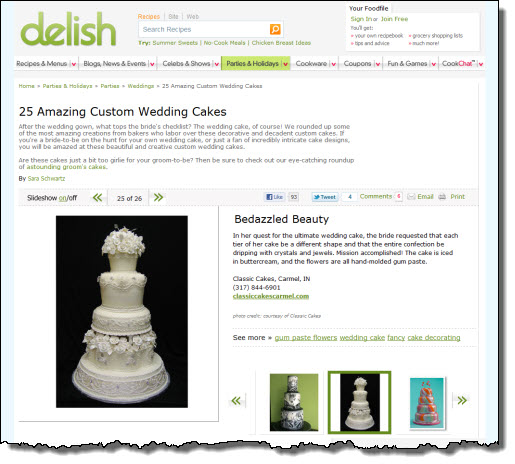 The two cakes from Classic Cakes in Carmel that are featured in this article on MSN's Delish channel are #19 and #25. Great work!
I've been told the story that the owner of Classic Cakes used to enter a cake competition at the Indiana State Fair every year, after winning it a number of years in a row the judges came to her and asked her to stop entering because nobody was even coming close. I think they made her a judge instead.