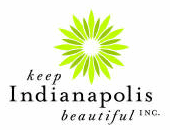 It wasn't too long ago that we wrote about some of the work that Keep Indianapolis Beautiful is doing in our city.
I just read this post over on the Smaller Indiana website and had to share it with our readers as well. Participating in events like this can be a lot of fun, and you're helping your community as well.
Be a part of the Lilly Global Day of Service and the more than 50 community partners coming together to help prepare the city for 2,500 new trees, 75,000 new plants, new play grounds, outdoor learning areas for local schools, and much more!

VOLUNTEERS NEEDED: MAY 6-19th (in preparation for the big day on May 20)
We need help unloading and sorting trees and perennials, loading trucks, watering plant material and more …

For more info, check out http://tinyurl.com/84vcrg or contact Sarah Grain at 317.264.7555 x106 or [email protected]

It is your city…Help make a difference.
I used to do events like this at least once a year when I was in college and have helped at a variety of similar events through the years.
Find out all you need to know about Keeping Indianapolis Beautiful on the Keep Indianapolis Beautiful website.