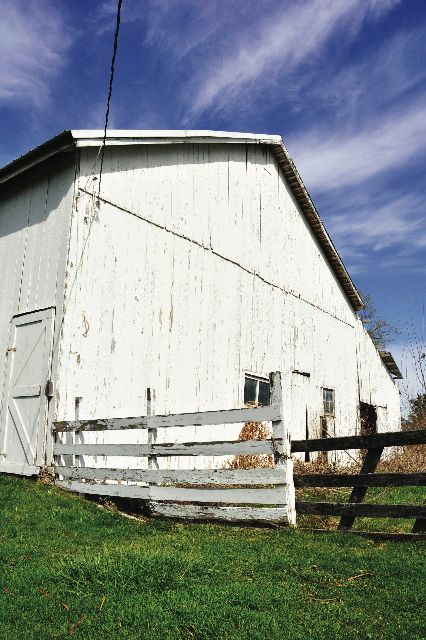 DANVILLE, IN (August 27, 2013) –Merely days before its rebirth at the Hendricks County 4-H Fairgrounds, a second annual event will benefit the relocation and restoration of the historic Cartlidge Barn.
Tickets are on sale now for the Cartlidge Barn Farm to Table Fundraiser, which will begin with a social hour at 5 p.m. and dinner at 6 p.m. Sept. 21 in the Thompson's Red Barn, 5563 W. County Road 650 North, North Salem. This second annual event will again combine local produce and fine dining in a location that couldn't be more fitting.
"I love the formal dining with a casual flair…in a barn," said Faith Toole, Cartlidge Barn Project Fund chairperson. "Having Hendricks County restaurants prepare the entrees paired with wines from Chateau Thomas Winery will be fabulous. The generosity from our community for silent auction items also has been amazing."
Toole said organizers made one significant change this year by focusing on several Hendricks County chefs to prepare the four-course meal including representatives from the Bread Basket Cafe & Bakery, Dawson's Too Sticks & Stones and Savor Thyme Café. Each will use local produce and protein by partnering with local farmers and the Hendricks County Cattleman's Association and Pork Producers. Students from the Area 31 Career Center's Culinary Arts program will again assist those local chefs making the night an unforgettable experience for every guest.
Tickets are $75 a person and can be purchased online through the Hendricks County Community Foundation at www.hendrickscountycf.org.  In addition to the dinner, Jeremy Morris and The Harvest Road Band will provide a benefit performance to entertain guests.
A tea tasting open house and silent auction to benefit the project also will be held that same week from 6 to 9 p.m., Sept. 17 at The Porch, 2411 E. Main St., Danville. Tea and finger foods will be served during that event. That night also will include music and massages by Sally Shattuck Massage Therapy. Tickets cost $20.
The nearly 180-year-old, hand-hewn timber constructed Cartlidge Barn became a landmark because of its proximity along U.S. 36 in Avon. When the Cartlidge farm was purchased to build the Hendricks Regional Health YMCA, a local effort began to preserve the old barn. That effort morphed into a project in which the barn was professionally disassembled.
Construction is set to begin rebuilding The Cartlidge Barn on the grounds of the Hendricks County 4-H Fairgrounds in early September and should be finished by October, Toole said. The Cartlidge Barn then will be used as an educational tool showing the Hoosier Pioneer way of life during annual festivals including the Hendricks County 4-H Fair.
"We are excited to welcome this new addition to our grounds," said Brenda Burnell, Hendricks County 4-H Fair Board President. "With our facility being so modern, the history that the Cartlidge Barn brings will be an incredible educational element for Hendricks County. We hope this new building will be utilized for all types of venues and events. The possibilities are endless."
For more information about the project, visit The Cartlidge Barn website at www.thecartlidgebarnfund.org or call (317) 718-1200.
The Hendricks County Tourism Commission d/b/a Visit Hendricks County attracts visitors to the county by promoting and developing tourism, which stimulates economic growth and enhances quality of life. Find us on Facebook at Facebook.com/VisitHendricksCounty and become a fan for updates and reminders, contest info and much more. You can also follow us on Twitter @HendricksCounty or get updates by following or subscribing to our tourism blog at TourHendricksCounty.com/blog. For more information, visit our website at TourHendricksCounty.com or call (317) 718-8750.