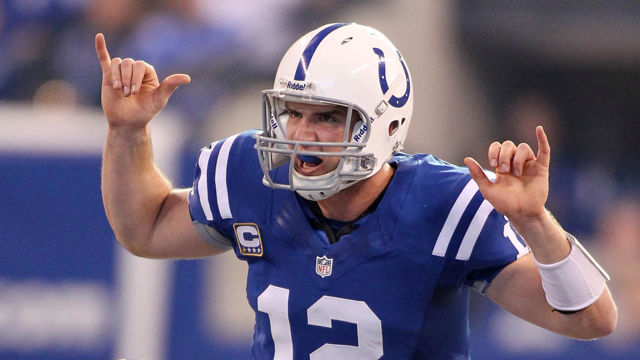 Quincy Carter and Drew Henson
Dave Campo and Marty Mornhinweg
Joey Harrington and Ramzee Robinson.
These six men played or coached for the Dallas Cowboys or Detroit Lions – usually on teams that struggled. Some, mightily. These six men have thus been part of a less-than-stellar side dish to our American tradition of Turkey, pumpkin pie and NFL football on Thanksgiving Day. Thanks, NFL.
The NFL, which in 2006 added a roving night game to the customary Dallas- and Detroit-hosted Thanksgiving Day games to include more teams, instead needs a new fixture in its lineup: The Indianapolis Colts as its permanent night cap to the holiday schedule.
What a boon to those who live in those Thanksgiving cities the traditional games are. But all of us, nationwide, can have that stadium experience at home, with FiOS and other high-definition TV.
The Tradition
Long before Dallas and Detroit hosted games, Thanksgiving football enjoyed a stronghold in America.
Princeton and Yale played on Thanksgiving in 1876, and the University of Michigan picked the holiday for its matchup with the Chicago Maroons for several years. Pro-am teams around the turn of the century played on Thanksgiving, and a tie during a holiday championship match in an early pro league led to controversy among three clubs as to which was the league's true champion.
After teams such as the Buffalo Prospects, Pottsville Maroons and Rochester Jeffersons played Thanksgiving football, the modern-day NFL followed suit.
Detroit Lions
Lions owner G.A. Richards lobbied for Thanksgiving games in Detroit as a ploy to sell more tickets for the team's meager 26,000-seat stadium. The visiting Chicago Bears clinched their division with a 19-16 win in the Lions' first hosted Thanksgiving Day game, on Nov. 29, 1934.
Dallas Cowboys
The Dallas Cowboys were the only team that said yes to the NFL's request to host a Thanksgiving Day game in the 1960s. All other teams considered a late-season, Thursday game a bad idea. Dallas rallied to beat the Cleveland Browns 26-14 on Nov. 24, 1966, at the Cotton Bowl.
The Case for Indianapolis
The Stadium
Certainly, the palace in Dallas (AT&T Stadium) and unique venue in Detroit (Ford Field) are worthy hosts for the holiday spotlight. So too is Indianapolis' Lucas Oil Stadium.
Lucas Oil Stadium has hosted a Super Bowl (2012), the NFL scouting combine and Big Ten football championship. With a retractable roof and natural lighting, this place is a gem. It's just the type of facility the NFL should feature. And the team that plays there is pretty good, too.
The Tradition
The game-day atmosphere would be electric.
Imagine the Blue Crew as the center of the football world for an evening. With retail threatening to infringe upon the holiday, a home Colts game just might be what America needs to take Thanksgiving back, especially if someone puts on a pot of Colts Chili. Let's start the tradition.
The AFC/competitive balance
Thanksgiving has been the NFC showcase for too long.
Since 2006, the NFL has scheduled a roving Thanksgiving night game. It's been played in Philadelphia and Atlanta. Because Dallas and Detroit are NFC teams, it's rare to get the AFC represented on Thanksgiving. By placing a game in Indianapolis, you could have balance:
AFC or NFC team at Dallas, 12:30 p.m. (EST)
AFC or NFC at Detroit, 4 p.m. (EST)
AFC team at Indianapolis, 8:30 p.m. (EST)
One early game can be an AFC/NFC clash, the other can feature exclusively NFC teams. The Colts game will always be against an AFC foe. Six teams, three from each conference, will always play.
Thanksgiving night should belong to Indianapolis. With old-school representation in Detroit, and a nod to innovation in Dallas, a newer NFL city with a little of both could become the jewel of an incredible day of football – and American tradition.
David Preston is a husband, father of 2 and diehard Carolina Panthers Fan. When he's not chasing kids or applying body paint, he free-lances in the gaming and entertainment space.