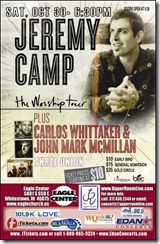 For those of you interested in some positive music and lyrics, The Upper Room is bringing Jeremy Camp and Carlos Whittaker in concert on Saturday at the Eagle Center in Whitestown, IN.
Also performing that night will be John Mark McMillan and Three Union. It's sure to be a great evening with lots of great music.
You can get more information about the concert on the Mission Notes | Christian Music blog.
Tickets are available through Edan Concerts and iTickets.com