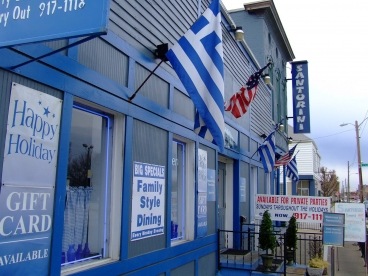 This past Friday night my wife and I had the opportunity to enjoy an evening dinner alone and my wife chose Greek food and that led us to Santorini Greek Kitchen located in Fountain Square, just southeast of downtown Indianapolis.
My wife is not very adventurous when it comes to her dining options. She texted me last week and said "I'm eating Greek at some place in Fountain Square". I replied "Santorini Kitchen" as I'd been there before for lunch, although never for dinner.
Santorini Greek Kitchen began as a dream. We opened our doors in a small (50 seat) restaurant, in the heart of Historic Fountain Square in 2001. Since then, we have blossomed, with the help of our loyal guests. We have moved and established our "final resting place," just a little east of the Fountain. As we like to say, kitchen is defined by Webster's as a room with cooking facilities, our Kitchen is different, it is filled with our hopes, wishes and dreams… We offer you our Kitchen, a special place to enjoy food, family and friends.
On this evening I decided to take advantage of her willingness to enjoy Greek food again and ordered a few different items to let her try some additional tastes.
Here was our meal:
Appetizer: I picked a combination plate of:

Baba Ganoush – smoked eggplant dip
Saganaki – flaming cheese "OPA!"
Hummus – smashed dip of chickpeas, sesame seeds, olive oil and other seasonings

Entree:

Me: Lamb Lovers – selection of lamb kabobs, lamb chops and another cut that I can't remember
Her: Chicken Souvlaki – skewers of chicken with grilled vegetables
Our meals started with the delicious appetizer and greek salads. My wife was leary of trying the Baba Ganoush and ended up enjoying it the best. The saganaki was tremendous as well.
Both of our meals were great. I was a little surprised the the lamb in that it ended up not being as tender as I had expected, but it tasted tremendous. Both entrees also included roasted potatos, rice and green beans.
I had hoped to try a couple of desserts as I had looked at the Rezogalo, a rice pudding dish, and the Galaktabouriko, a Greek custard with phyllo dough and sprinkled with cinnamon.
Sadly, we were both too stuffed to even waste our time trying to finish off two desserts as well. Perhaps the sweetest treat of the evening though was the absolutely phenomenal service we received from Bill, our server. He provided what was perhaps the best service I've seen at a restaurant in my life, outside of our recent experience at Disney World. He was very informed and articulate about the dishes available and what things to think about as we ordered and I expanded my wife's culinary experiences.
We'll be back to Santorini Greek Kitchen again, and I'll probably call ahead to make sure Bill is there as well. If you haven't been to Santorini Greek Kitchen, head on down to Fountain Square and give it a try. Ask for Bill and let them know we sent you!
Santorini Greek Kitchen
1417 E. Prospect St
Indianapolis, IN 46203
317-917-1117 restaurant
317-917-1116 office
Hours: Mon-Th 11am-9pm / Fr 11am-10pm / Sat 12pm-10pm