I'm visiting family in Cincinnati tonight and just heard the news about the stage collapsing at the Indiana State Fair tonight due to strong winds and thunderstorms. I've just read one article about the news so far, but have been trying to keep up with updates via Facebook and Twitter. Such sad news.
Here are some photos that I've seen so far that were interesting: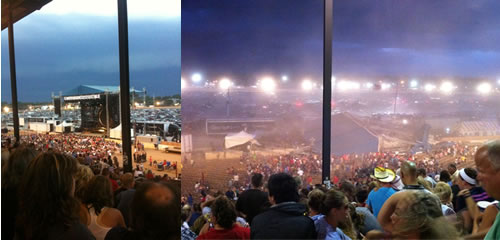 I put these two photos together so you could see how things looked before and after the collapse of the rigging. My friend Daryl shared the links to these photos. The photo on the right was posted by Rich Evers, I'm not sure exactly who posted the photo on the left.
Here's another clear photo as they're still working in the area after the collapse (Click to enlarge).
Sugarland (@Sugarlandmusic) and Sara Bareilles (@SaraBareilles) were in concert tonight, which I was really bummed out about because I would have loved to have gone to hear Sara sing.


Were you at the concert? Would love to hear your input on what it was like being there and what you saw happen.
Update: Here are some links to news stories covering this terrible tragedy
UPDATE: Here's video of people helping after the collapse
[youtube]http://www.youtube.com/watch?v=2QFz7K5JFP4[/youtube]