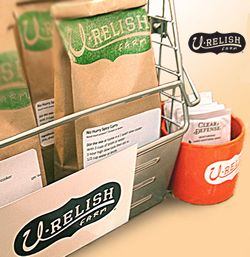 My wife and I have found something new that we love to eat on a regular basis and we've been telling all of our friends about it. I'm always challenging my wife to fix more meals at home and try to help us save some money by eating meals out much less. She's taken up the challenge and doing a great job and U-Relish Farm is making our success DELICIOUS!
My wife helps our friend sell his beyond organic poultry, pork, beef at the Indy Winter Farmer's Market on Saturdays. The market is located at the City Market in downtown Indianapolis and my wife has struck up a friendship with Cara Dafforn with U-Relish Farm.
U-Relish Farm provides crock pot meals that are perfect for single parents, college students, busy professionals and outdoorsy types and of course just busy families like ours that want to have great food, at a great price that's delicious and ready with very little effort.
Offering meals-in-a-minute, U-Relish Farm's promise is simple: Place the package of regionally-sourced ingredients into a crock pot in the morning and when you get home there is a slow cooked meal that is preservative free, nutrient dense and delicious.
U-Relish Farm is among the tenants in the City Market preparing for the SUPER BOWL. U-Relish Farm at the Indianapolis City Market is realization of its vision of becoming a destination for artisan-crafted foods and gourmet retail products. Furthering our local food safety and fostering a global perspective for saving resources.
To that end U-Relish Farm celebrates our out of town guest with some new menu offerings including but not limited to Jerky Rounds, Gluten Free Crackers along with our peas, beans and lentils meals for the crockpot.
###
About U-Relish Farm – Opening its first franchise in 2010 at the Winter's Market of the Original Farmer's Market at City Market in Indianapolis. U R fulfilled by U-Relish Farm's  dedication to helping families and individuals manage their money more effectively through the use of a slow cooker. U-Relish Farms progress can be found on Facebook and Twitter. Another Project of Eel River Marketing
U-Relish Farm • Main Market House • 222 East Market Street,
 Indianapolis, IN •46204 • @CaraDafforn • www.u-relish.com