Yesterday morning I walked into one of my favorite Indy restaurants, the Rock Cola Cafe on Brookville Rd for an unexpected breakfast. When I walked in, Greg let me know that one of their sandwiches had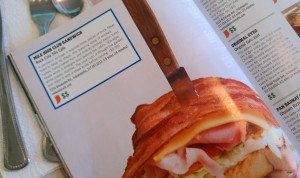 been featured in the Super 46 Sandwich contest being sponsored by the Indianapolis Super Bowl committee. It was their Mile-High Club Sandwich as shown below from the article.
The Mile-High Club isn't one of the dishes I've had yet, but now I've got to add it to my list. Not sure how they picked their choice, but they didn't choose the Reuben, the Philly Cheesesteak or the GIANT 16oz pork chop sandwich, which are all fantastic!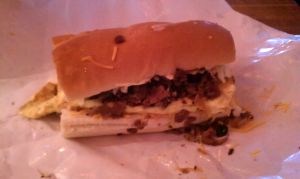 Also on the list from one of my favorite restaurants is the roast beef po-boy from Papa Roux. Another delicious sandwich and I have had this one. Â I think I've had everyone of their poboys along with just about everything else. The one pictured is the egg poboy with bacon.
So here's the news though. We're down to the final 16 sandwiches in the bracket and you should vote and share your opinion. I've voted and so should you. I'd also be very interested in knowing what sandwiches that you love in our city that didn't make it on the list. Let us know!
Vote now in the Indiana Super 46 Sandwiches playoffs now