Roger Bishop just shared something that I think is very cool from the Indianapolis Colts. During last week's final regular season game against the Tennessee Titans, they took a 360° giga-pixel (5 billion pixel image to be exact) image of the fans at Lucas Oil Stadium.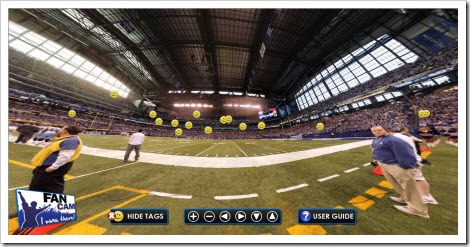 As you can kind of see from all the little smiley faces on the photo, you can zoom in and find yourself in the stands and then tag the photo that you were there.
I think this is a very cool idea. I've seen similar events, like BlogIndiana, where a large group photo is taken and then shared on Facebook, then attendees are encouraged to tag themselves in the photos. With the functions of Facebook, this allows the photo, and ultimately the event, to be widely promoted on the network. The same can be true of the Colts organization sharing this photo. Hopefully they'll be doing this for all future games.
Colts owner Jim Irsay has been getting some media attention lately with his activity on Twitter. Also at the Titans game, they gave away a Toyota Prius and $4000 cash to one of his Twitter followers after they correctly guessed the number of footballs that were stuffed into the Prius, a promotion that some may consider genius. Others may think the sometimes incoherent ramblings by Irsay on Twitter are reminiscent of those of Paula Abdul on American Idol's judging panel. I on the other hand think both individuals are just unique human beings and I enjoy hearing what they have to say most of the time.