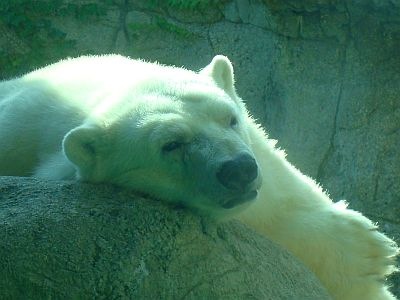 I've been to a lot of city zoos over my lifetime and few of them compare with the Indianapolis Zoo. My family always enjoys a trip downtown to the zoo. It's one of the many great things I love about Indy. (a family membership is always a great Christmas present – hint hint)
Unfortunately, the Indy Zoo lost one of its stars, Tahtsa the polar bear. She died on Wednesday.
If you're like me, I'm guessing you've snapped a few pictures of this local favorite. Everyone loves polar bears. Killing machine status aside, they are so cute. Maybe the Coke commercials helped that image.
Turns out that Tahtsa was, at age 34, the world's oldest polar bear. She died a mere 4 months younger than I am now. Goes to show you the health benefits of a diet heavy in fish and free of fried pizza. She was on loan to the Indianapolis Zoo from the Louisville Zoo, where she had lived from 1976 – 2006. Though the bear was only in Indy for a few years she will be missed.
I took this photo of Tahtsa less than two weeks ago and could tell she wasn't her normal self. Usually she was always swimming laps in her ice-cold swimming pool. We'll miss you Tahtsa.
World's oldest polar bear dies in Indy – IndyStar