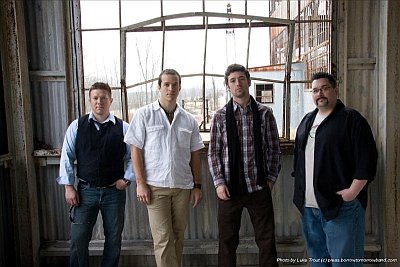 What are you doing this Friday night? Well, if you live in Indianapolis then you need to be heading over to the Vogue to see one of Indy's up and coming rock bands. These guys have not played Indianapolis in quite some time but are ready to rock the house with the 80's cover band 16 Candles.
Borrow Tomorrow is an Indianapolis based rock band that not only impresses on their polished instrumentals but also with some educated and experienced songwriting. They perform songs like Shy Away and Looking that will not only have you swaying in your chair but will have you begging to sing along. They also drop some slower songs on you like Wicker Park Suite that have front man Chris Jerles on keys. Regardless if he is caressing the keyboard or melting faces with his guitar, his voice is what makes him worth watching. His voice is not clean and clear cut like you might expect yet dirty and rusty that plays perfect into their overall sound. Throw lead guitar from Robert Newport in the mix and you have a duo that can play off each other all night long.
Keeping things in the family, Robert's brother Andrew is behind them hiding behind the drum kit. Although you might go an entire show and never see his face you will know he is there from his intense solos and his adrenaline packed ambiance. But someone you will notice, and will remember as well, is the bass player Randall Trumbell. Standing on the side moving ever so softly to the sounds you will find him in his own little world slapping the bass with affection. Always sporting blue glasses and a sport coat he is hard to miss and impossible to forget.
Regardless of the quality of music these four guys produce, they are also some of the nicest guys you will ever meet. They make a point after every show to shake every hand and to sign every CD. These guys are some of the hardest workingmen in the business and it shows in their entire presence. So this Friday make sure you see them at the Vogue in Broad Ripple. This is a show that you cannot afford to miss.
(If you head over to the merchandise table during the show and talk with Ricky Potts (from rickyleepotts.com) and mention this article you will get a free CD.)