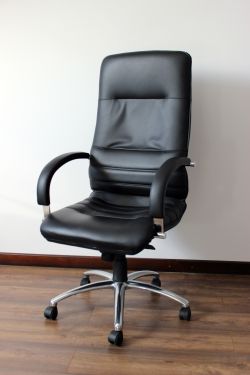 Balancing functionality and comfort when designing an office is essential, although many business owners simply don't think seriously enough about it. The truth is, office design is extremely important and it can contribute to the smooth day-to-day running of the company. It can affect productivity, morale, and the overall effectiveness of the staff.
Sure, a well-designed office may be a little more expensive than the alternative, but it ends up being much cheaper in the long run.  A poorly designed office only leads to wasting time, frustration, and a re-investment in the overall design. Furthermore, basic tasks could be hindered because of the poor layout.
Good office design solves the problems associated with the physical work environment.  It can open up new lines of communication, allow different areas for staff to complete different tasks, and makes everyone excited about coming to work.  In fact, a great office might even invigorate the workforce.
The furniture actually matters
Small companies are often tempted to save money on budget furniture, but this can be a mistake.  Managers don't have to break the bank on special chair mats, but spending a little more on the office furniture can save loads of cash in the long run.  Larger companies often splurge on chic furniture that isn't much better than their cheap counterparts.  The way to go is ergonomic – incorporating form, function, and health.
Think about it: employees often spend the majority of their workday sitting at the desk and in chairs. If these chairs aren't ergonomic, they will begin to suffer the ill effects of poor quality work furniture such as lower back pain and general discomfort.
Clean things up
A messy office may be a busy office, but it is probably not a productive one!  Keeping the office – and everyone's workspaces – as clutter-free as possible will significantly increase productivity and organization.  Though it can be a challenge to enforce a clean desk policy, there are tricks managers can use to tidy up a bit.  A hint: suggest that workers scan documents to reduce the amount of paper piling up on the desk!
This principle goes beyond the individual workspace and should be carried through the entire office layout.  Invest in some functional yet attractive filing systems and storage cabinets for office supplies.  Every piece of furniture should have a duality to it – storage benches are great for the entryway and can double as a seat for those waiting for an appointment, for example.
The color of productivity
Interior designers will attest to the fact that color can contribute to the way a person feels, which is why they often choose soothing colors like blues, greens, and neutrals for the living room and bedroom.  Color can also affect people's productivity in the workplace and the office design should take this into account.  Blues can be soothing but also stimulate the mind while yellow boosts creativity.  If it isn't possible to paint the walls, go for accent pieces throughout the office to promote a calming yet productive atmosphere.
The open plan isn't for all
While some businesses have sung the praises of the open plan, it may not be as great as they think.  According to some recent studies, researchers have found that the open plan system doesn't actually promote collaboration or productivity, but quite the opposite.  Many workers don't accomplish as much work as they might like because they have the constant interaction with others as well as noise disturbance.
However, there are some ways to get around the possible negativity surrounding the open plan – just ensure that there are plenty of other areas in which employees may work such as conference rooms and private nooks.  These are great for times when concentration is essential or when a private meeting must take place.
A few simple design fixes to the office environment can mean a huge difference – for both large and small companies.  Whether it is something as simple as painting the wall or investing in the right furniture, the office design can be tailored to promote maximum effectiveness.