Last week as I was working in Irvington, I thought I'd skip lunch; my stomach finally convinced me otherwise and I decided to check-out a place a friend had told me about a few months ago. The Rock Cola Cafe on the east side. My friend had noticed my Foursquare check-ins on the east side and asked me if I'd ever been there. He said he had gotten the grilled pork chop sandwich and it was enormous! He showed me a picture, and it looked big but the scale was lost in the image on his phone.
So, last Monday, hungry, I ventured out of the office and drove down the street and rolled into The Rock Cola Cafe. I was immediately transported back in time to a simpler, friendlier lunch time experience. It's a small, little hole-in-the-wall that most people will probably never notice and especially not stop and walk-in. They are missing out!
The feeling was a bit of a cross between places we may have been familiar with growing up watching TV: Cheers and Mel's Diner.
The place was hopping, all the tables were filled and I picked a seat at the end of the counter. I was greeted warmly, asked what I'd like to drink and handed a menu. The pork chop sandwich didn't really interest me on this day, so I eventually ended up asking the server, Stephanie, "This is my first time here, what do I just have to have to experience this place?" She recommended either the grilled tenderloin sandwich or the reuben. I love a good reuben so I went with that choice. I wasn't dissappointed. I substituted some onions rings for the fries and added a strawberry milkshake for good measure.
While I was waiting for my food to be prepared right in front of my eyes, I took a look around at the interior and the patrons that were enjoying their own lunch that day. You can tell many of these folks were regulars. There was an older gentleman named "Rex" sitting to my right. A brief conversation about the Colt's pre-season efforts was being shared between him and Greg.
Once Stephanie finished cleaning a table up from a previous group of guests, she let "Stanley", who had been sitting at the counter, know his table was ready. Other regulars were seated at their tables and everyone was enjoying each other's company, conversation and a great meal.
The decor in the restaurant is a mix between Happy Day's Al's Diner and an American Picker's honey-hole (not sure why I'm using so many TV show references). So much old nostalgia items and images from pop culture from decades back.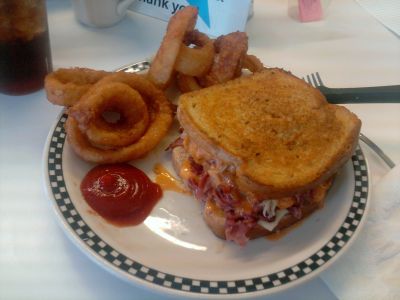 The time passed quickly and my lunch was served.
Just like the pork chop sandwich, the photo doesn't do this justice at this angle. The sandwich was piled with corned beef. This wasn't to be eaten with your hands, you had to just dig in with your fork. The onion rings were a great compliment to the sandwich. They were easily eaten without taking one bite and pulling out all the onion at once and leaving yourself with just a shell of batter.
I've got to say that as I was eating my own lunch, Stanley and his wife(?) ended up ordering the pork chop sandwich. These had to be the largest pork chops I'd ever seen! They would have been right at home sitting on a linen table cloth and served at some fine dining steak house. But these suckers were being grilled up and tossed on a bun and eaten as a sandwich! I'm still blown away by how huge these things were. If I remember correctly, the sandwich is a 16oz pork chop and is only $6.49!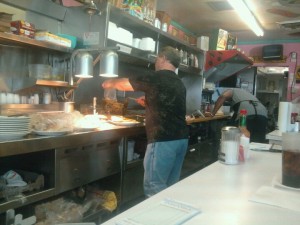 Greg and Dan are co-owners of this place and it's been running as The Rock Cola Cafe for the last 17 years I believe. I'm sure when the International building was humming with employees, this was quite the popular lunch spot for those workers.
The other intriguing nugget of information about this place is its relationship to a drink called Choc-Ola. I wasn't familiar with the drink, which people immediately responded to me by saying, "You're not from Indiana are you?" I'm not. Although I was quickly reprimanded for comparing or associating it with Yoo-Hoo, it is NOT Yoo-Hoo! The drink is a smooth, non-carbonated chocolate beverage. It doesn't have the malted taste of Yoo-Hoo and in my opinion is a bit sweeter.
To make a long story short, Yoo-Hoo (The Chocolate Group) bottlers purchased the Choc-Ola product. Then Mott's bought The Chocolate Group and shut-down production of Choc-Ola. Dan, the owner of Rock Cola Cafe, obtained the trademark for Choc-Ola after Mott's let it slip through their fingers and is beginning to re-bottle and distribute Choc-Ola from the Rock Cola Cafe and soon through numerous other outlets.
I really encourage you to read the full-story about Choc-Ola on Wikipedia.
After I finished my lunch, I shared a nice conversation with Stanley about this place. I talked about how reading through their menu wants me to come back every day for a couple of weeks and try everything, particularly their breakfast dishes. The slabs of hickory smoked bacon they were cooking up for their lunch sandwiches was enough to hook me in on coming for breakfast.
I did eventually come back on Saturday, they have a breakfast buffet. Let's just say I had plenty of bacon, eggs, sausage and breakfast potatoes. And that was just a few of the items that were available.
So, stop going to all those name-brand places for lunch and breakfast. If you're on the east side, or even remotely close, drive on over to the Irvington area and head down Brookville Rd. The Rock Cola Cafe will be on the north side of Brookville, just west of Arlington and right across from the International Harvester building.
Let me know when you're coming, not that I need another reason to visit, but I just might meet you for lunch or breakfast! And don't forget, when you're there check-in on Foursquare when you visit!