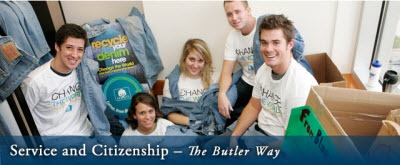 I've been hearing quite a bit lately about the "Butler Way". Initially it was regarding how Butler students handle themselves after a win or loss as compared to perhaps another university. I'm not sure we can accurately stereotype on either side of the coin, but then again, why should we even try.
I read a story today though about how the Butler University players handled themselves and their teammates in the locker room after the game. This article is the example of the "Butler Way" that I'm interested in hearing more about.
The story of Butler, the one that's captured underdog hearts for two consecutive NCAA tournaments, was always about a group finding a way to be better than its individual parts. The Bulldogs were a family, they said. They were a brotherhood, they reminded. They believed they could reach back-to-back NCAA title games when there was no logical reason to think such a thing was possible.

This is what all kinds of teams say, of course. And it's easy to be a family when the shots are falling and victories are piling up and you're shocking the world night after night. It's another when you take the grandest stage in college basketball and proceed to experience a failure of historic proportions.
How did you handle the loss? Did you just blame others for the loss? Did you take responsibility? Or did you put all that behind you and just be a teammate and a fan? That's the "Butler way". I'd encourage everyone to make it the "<your name here> Way".