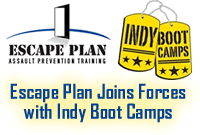 Do you know what you should do if you find yourself in a dangerous situation? When you're alone and getting into your car, what should you be aware of as you approach your vehicle? What should you be watching for as your walking down the street?
For those in the Indianapolis and surrounding areas you can now learn how to answer those questions and give yourself more of the "Protective Thinking" that you need.
Learn what it takes to keep yourself and your family safe.
Escape Plan has partnered with Indy Boot Camps to offer their "Protective Thinking" self defense series for women.