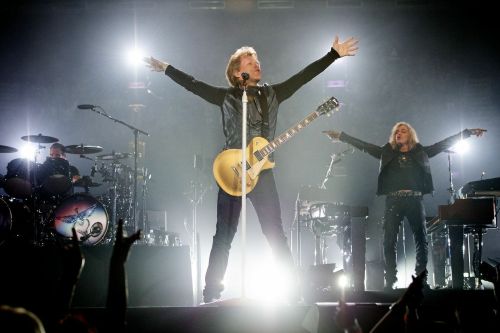 INDIANAPOLIS, IN  (May 7, 2013) – The summer forecast is heating up! New Jersey rock icons Bon Jovi will bring an epic night of rock n' roll to Klipsch Music Center in Indianapolis onTuesday, July 16, marking the band's first return to Indianapolis since their 2003 Bounce Tour, and nearly 25 years since Bon Jovi helped open the Klipsch Music Center (formerly Deer Creek Music Center) when they performed during the venue's very first concert season in 1989.
Reserved pavilion and Harrison College Lawn tickets, plus applicable fees, go on sale Monday, May 13 at 10:00 a.m. at the Taco Bell Box Office at Klipsch Music Center, Livenation.com, Ticketmaster, participating Wal-Mart locations, charge-by-phone at 800.745.3000 and Ticketmaster Express at 866.448.7849 (automated only self-service line).  Tickets are subject to applicable service charges and event time and date are subject to change. Visit www.bonjovi.com for up-to-date information.
"BON JOVI Because We Can – The Tour" kicked off earlier this year and night after night, Bon Jovi has given show-stopping performances to packed arenas across North America.Billboard.com reported that "many thousands of fans that have already seen the 'Because We Can' tour have proven both the trek and the record are winners." Arizona Republic raved, "It's been 30 years since 'Runaway,' Bon Jovi's breakthrough single, and the New Jersey rockers are still going strong." The Cleveland Plain Dealer simply stated that if "you want to see a real band, get yourself a ticket to a Bon Jovi concert….Lead singer Bon Jovi is as dynamic a performer as there is," and The Deseret News observed, "There are few bands left today that rose to prominence in the 80s that can still fill arenas and stadiums for a world tour.  Bon Jovi is one of those bands." The tour will head overseas in early May and will make its way back to the U.S. in July for the most highly anticipated stadium concerts of the summer.
WHAT ABOUT NOW is Bon Jovi's 3rd consecutive studio album to enter at #1, following Lost Highway in 2007, and The Circle in 2009. With a focus towards the future, Bon Jovi is also offering fans an unprecedented interactive experience via the free BON JOVI APP at the heart of the WHAT ABOUT NOW album and tour. The mobile application ties together the newest Bon Jovi content and Augmented Reality (AR) software to bring the Bon Jovi experience to life through fans' mobile devices. Once downloaded, open the Bon Jovi app, click on Augmented Reality and point your phone at the WHAT ABOUT NOW artwork wherever it appears, and see the album artwork come alive before your eyes.
Bon Jovi's return to the road in 2013 launches the latest chapter in an ongoing blockbuster run which has secured their status as the essential live rock band—– having performed more than 2,700 concerts in over 50 countries for more than 35 million fans. "BON JOVI Because We Can – The Tour" will continue across North America, South Africa, Europe, Japan, Brazil, and Australia.
Image: Provided by AEG Worldwide