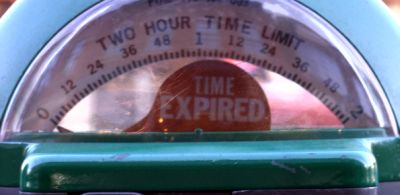 A couple of weeks ago I was in downtown Indianapolis and had to run into a client's office real quick to grab something and then head back out. After circle a couple of blocks a few times looking for a parking space I finally found one about a block-and-a-half away. I raided the ash tray for all of my silver change and fed the meter. I thought it would be long enough, but when I returned I had a $20 parking fine left for me underneath my windshield wiper.
As the time I thought that it would have been really great to have a meter that could take a credit card payment, or perhaps even a payment via cellphone in some way.
Turns out, I was only a few weeks behind the times and a couple of streets further away, but from a recent article on the Indy Channel website, my desires have been heard!
"If you are in an office building, and let's say you park your car here and you're at the top of one of these buildings, you can use your cell phone to … add time," Gerig said.
The cell payment option is available yet, but it's coming. Along with more of these parking pay boxes in other areas of Indianapolis.
I love it!
Seems like this day has been a long time coming. We do so much with our phones, why shouldn't we be able to be alerted to our time expiring and be able to feed a few more credits into the meter if we're running longer than expected.
One thing I do wonder is if there would be an overall abuse of that ability. If you could keep pumping money into the meter without returning to your parking spot, that could hinder the "flow" of parking spaces becoming available for others throughout the day.
Source: Pay Boxes Modernize Indianapolis Parking