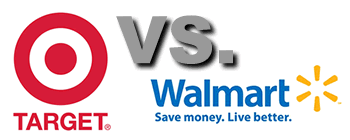 Are you a Walmart shopper or a Target shopper? If you're looking for an opportunity to start off 2010 with some good food, new and old friends and the chance to argue a bit amongst yourselves, have I got the event for you! It's time for a little retail grudge match smackdown.
Yesterday I had the privilege to meet a guy named Ricky Lee Potts (@rickyleepotts) at #Indiana's Inaugural Social Media Summit at Scotty's Brewhouse (@brewhouse).
This Monday night, January 4th 2010, he's hosting a little Tweet-Up at Scotty's Brewhouse on the north side to discuss the pros and cons of Walmart vs. Target. Here's what Ricky has to say about the event.
Yes, folks who are attending must RSVP as I have a limited number of seats. I can only fit 18 folks.  The concept actually started with me simply tweeting and speaking on Walmart every time that I went there. I would check in on foursquare, comment on Twitter and Facebook, and sometimes even mention it in my blog. From that a lot of folks began getting interested in my addiction to Walmart and every time I mention it as the best store on the planet or even if I am simply there folks talk. They began talking about how Walmart sucks and Target is better, giving me reason after reason why Target was better. Each, of course, I had a comment back as to why in fact Walmart is better. I got the idea to just gather these individuals, if applicable, together and talk about these in a centralized setting. So, introducing the first concept based Tweet-Up.
It's not quite a debate about national healthcare, but it's sure to be fun and a chance for you to be real-world social with your social network friends.
Just RSVP by sending a tweet to Ricky on twitter @RickyLeePotts.