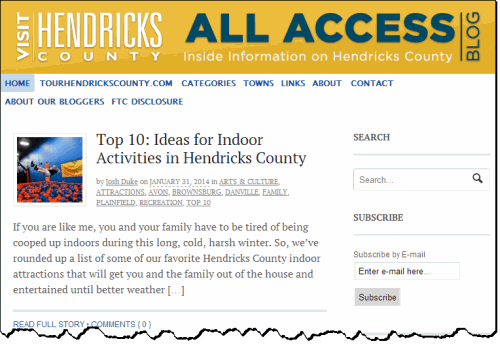 It's great to see a local community taking advantage of the web and social media and making an impact on their community. And, they're growing and need more help to further expand their efforts.
DANVILLE, IN (January 31, 2014) –Visit Hendricks County is seeking area residents who are interested in experiencing and writing about county attractions, festivals and other fun activities.
Visit Hendricks County's blog, All Access Hendricks County, has provided tourism-related insider information about the county since the site launched Nov. 1, 2011, at www.TourHendricksCounty.com/Blog. After remarkable success the past two years including growing readership with 247,000 page views and 60,000 unique visits in 2013 alone, Visit Hendricks County has decided to seek additional paid contributors, known as Digital Destination Experts.
"We added paid contributors in June of 2012 and since then have been able to consistently produce content five days a week," said Josh Duke, Visit Hendricks County's Communications Manager. "We have been pleased with our bloggers but believe we are ready to bring on more local writers to provide fresh ideas and perspectives."
Applications can be found at www.TourHendricksCounty.com/Blog by clicking on "Blogger Application" under the "About our Bloggers" menu tab or at www.TourHendricksCounty.com in the Pressroom. Deadline for applications is Feb. 21. Visit Hendricks County hopes to have those additional bloggers in place sometime in March. Previous blogging or writing experience is preferred but not required.
For more detailed information about the job, visit TourHendricksCounty.com and click on the Pressroom menu to find the Blogger Job Description or contact Duke by e-mail at [email protected] or phone at (317) 718-8750.
The All Access Hendricks County blog as part of TourHendricksCounty.com provides real-time, first-person storytelling to complement Visit Hendricks County's mission to promote Hendricks County and all its unique and affordable activities. The blog posts fresh content five times weekly. Residents and visitors can subscribe for free in the upper right-hand corner of the blog to get alerts when new insider content is posted.
The Hendricks County Tourism Commission d/b/a Visit Hendricks County attracts visitors to the county by promoting and developing tourism, which stimulates economic growth and enhances quality of life. Find us on Facebook at Facebook.com/VisitHendricksCounty and become a fan for updates and reminders, contest info and much more. You can also follow us on Twitter @HendricksCounty or get updates by following or subscribing to our tourism blog at TourHendricksCounty.com/blog. For more information, visit our website at TourHendricksCounty.com or call (317) 718-8750.