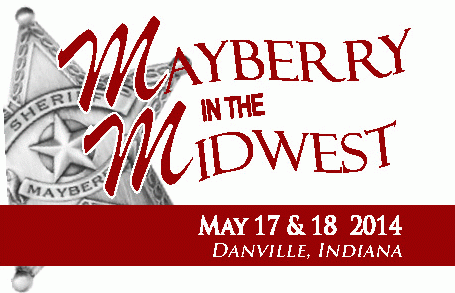 DANVILLE, IN (February 25, 2014) –Since 1992, Danville's Mayberry Cafe has served up down-home cooking and plenty of Andy Griffith Show nostalgia to thousands of people who come to Hendricks County every year from around the region, country and even the world.
Restaurant owners Brad and Christine Born with the help of the Downtown Danville Partnership plan to take that success and notoriety to a new level this spring with a first-ever, two-day festival called Mayberry in the Midwest, May 17-18. The Downtown Danville celebration will pay homage to the 1960s show, its characters and its wholesome, small-town persona.
"For years, people would ask us why we didn't have a Mayberry-themed festival here in town," said Christine Born. "We have been thinking about this for a while because the Mayberry theme really meshes well with Danville's hometown values. Danville knows how to put on a festival, so we feel the time is right for this to be successful and sustainable."
The two-day festival will primarily surround the Hendricks County Courthouse Square with numerous themed activities both days including appearances by two original cast members, Maggie Peterson, who played Charlene Darling on the show, and Rodney Dillard, who portrayed one of the Darling boys.
A number of tribute artists will join the celebration reprising many of the show's most popular characters including Barney Fife, Floyd the Barber, Otis, Goober, Gomer, Ernest T. Bass and others. Those artists will sign autographs, mingle with the crowd and perform on stage on the west side of the Courthouse Square.
Fun contests, including a whistling contest, Miss Mayberry, Opie look-a-like, trivia and more, will add to the festivities. More details about all the contests and how to register can be found at www.MayberryInTheMidwest.com. Other activities include a Mayberry Parade, Opie's World for kids, a concert at Ellis Park featuring Dillard and his band, a church service on Sunday morning by Dillard who is now a minister, Squad Car Nationals in the park and much more.
Organizers even have a Mayberry Downhill Derby planned near Ellis Park that includes a "Just for Fun" category that is open to anyone and any car and a competitive division for the more serious Soap Box Derby racers. Online registration will begin for both categories by March 1. Participants must be at least 8 years old to participate as each category will be divided into two age groups: 8-16 and 16 and up.
Similar festivals in North and South Carolina, one of which the Borns visited last year, provided inspiration for some of the activities. But local organizers also came up with fresh ideas for Mayberry in the Midwest, Born said.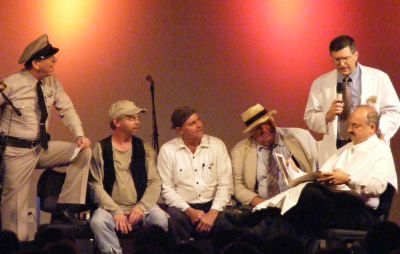 Organizers expect thousands of visitors both days. They will host a Meet and Greet event with limited tickets available the Friday night before the festival at Twin Bridges Golf Course. The Dugan Family has stepped up as a title sponsor for Mayberry in the Midwest, but the town is seeking additional sponsors and volunteers, said Laura Parker, Danville Assistant Town Manager and Downtown Danville Partnership board member.
"We have been building our reputation as a town that offers great festivals and events, so Mayberry in the Midwest is another opportunity for Danville to shine," Parker said. "Because of Mayberry's appeal and Danville's reputation, this festival is bound to be the biggest by far. We can't wait to roll out the red carpet for Mayberry fans from across the country."
For more information, go online to www.MayberryInTheMidwest.com or visit its Facebook page by searching for Mayberry in the Midwest.
The Hendricks County Tourism Commission d/b/a Visit Hendricks County attracts visitors to the county by promoting and developing tourism, which stimulates economic growth and enhances quality of life. Find us on Facebook at Facebook.com/VisitHendricksCounty. You can also follow us on Twitter @HendricksCounty or get updates by following or subscribing to our tourism blog at TourHendricksCounty.com/blog. For more information, visit our website at TourHendricksCounty.com or call (317) 718-8750.