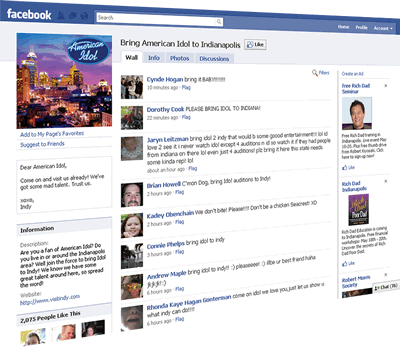 I'm sitting at home tonight and watching the American Idol results show. I was particularly excited about American Idol this week as the mentor for the remaining contestants was my favorite musician, singer and performer, Harry Connick, Jr..
As I was also surfing around Facebook at the same time I noticed that a friend of mine had "Liked" a Facebook group titled "Bring American Idol to Indianapolis". After 9 seasons of the show, yeah I'd say it's about time for them to come to Indianapolis for a contestant search.
Being centrally, I'm sure we could easily pack out Lucas Oil Stadium with plenty of hopefuls for the judges to plow through while they're here. The new JW Marriott Indianapolis property would also be ready to go by the time the next show would be starting as well.
It's all in line for Indianapolis to be the perfect location for the next American Idol tryouts.