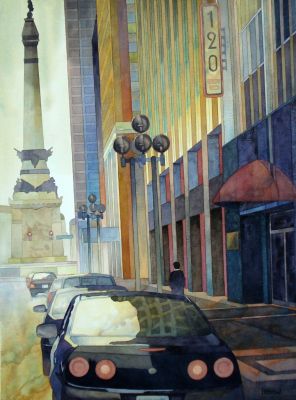 My friend, Ryan Petrow, is an artist and does some really great paintings, mostly in watercolors. I remember working with watercolor as I pursued my minor in art and one of the things I didn't like about it is I could never get the fine detail and hard lines I wanted in my paintings. For that same reason I also wasn't a big fan of charcoal either.
Ryan doesn't have the problem. In fact some of my favorite works of his have amazing contrast and clarity in the images. He has a very cubist style in my opinion, and puts that touch on a variety of familiar scenes around Indianapolis. The image included in this post is titled "120 E. Market", and captures one of the city's icons, Monument Circle.
Ryan's work will be featured at the Johnson County Museum of History from September 2nd through January 6th, 2012. If you enjoy watercolor and great art, you'll definitely want to make sure you take the time to go see his talents. The museum is located in the old Masonic Temple at 135 North Main Street, in Franklin, IN.
If you can't make it to this show, be sure to visit his website at www.ryanpetrow.com