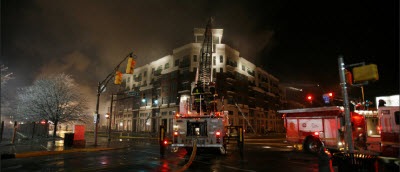 An early morning fire at a downtown construction project has done considerable damage. The new condo luxury apartment project, Cosmopolitan on the Canal, is a large, luxury development. The fire also damaged the building were the Historic Landmarks Foundation of Indiana resides.
The project is very close to one of my clients and I've driven by the location regularly and have been impressed with the development and design of the project. It's sad to see so much work ruined so quickly on the $28 million dollar project.
Damage to the building is significant but they hope to save as much as they can in order to keep moving forward.